Land Rover might have problems, but there's a lot to like about the Evoque.
Struggling sales, Brexit, and efforts to electrify have cost Jaguar Land Rover billions at a time it can ill-afford such an expense. But the company's problems do not, for the most part, extend to its products. The British automaker has a line of impressive vehicles that, for one reason or another, aren't appealing to consumers the way they should.
Case in point: the 2020 Land Rover Range Rover Evoque. Here is a fashion-forward lifestyle crossover that has genuine off-road chops and plenty of advanced technology. It should be flying off dealer lots, and yet this gorgeous crossover has never sold more than 15,000 units per year in the United States. Never.
That's not as apocalyptically poor as the Jaguar E-Pace, which has never cracked 6,000 annual sales, but the Evoque is still lightyears behind its rivals in sales. The smallest Range Rover has problems – it's pricey, thirsty, and some of the tech feels half-baked – but the Evoque is more than good enough to exceed its mediocre sales figures.
For more on how Motor1.com rates cars, click here.
Design
⠀
⠀
⠀
⠀
⠀
⠀
⠀
⠀
⠀
⠀
10/10
The Evoque, both from the inside and out, easily outclasses its chief competition. This is a very handsome vehicle, retaining much of the overall design from the original Range Rover Evoque. There are small styling changes, though, that better tie the smallest Range Rover in with its newest sibling, the larger Velar.
The headlights and taillights are slimmer and cleaner, and there's a glossy black strip that ties the two rear lamps together while housing the classic "RANGE ROVER" badging. The sides feature a strake behind and above the front axle that, on our R-Dynamic tester, wear a rose gold finish. That shade pops up on the front of the car, too, as strakes in the vertical intakes below the headlights and as non-functional vents on the hood. And when you're driving along, the door handles stow in the doors, for a more streamlined look. That said, while the car is parked and unlocked, the door pulls remain extended and act as little more than a big neon sign that your valuables are free for the taking. They don't restow unless the car is locked, either. The design is lovely, but the handles are a poorly thought out.
Rather than leather upholstery in the Evoque's cabin, and there are more sustainable, humane materials on offer. The Evoque's fabric upholstery is a no-cost option that combines a wool blend with suedecloth sourced from recycled plastic bottles (the same suede-like material is an optional finish for the headliner). And just for giggles, a Union Jack pattern appears across the soft, grippy fabric.
These materials complement the display-heavy cabin, which features two 10.0-inch displays on the center stack and an all-digital instrument cluster. We'll talk more about the problems with those displays in a minute, but from a design standpoint, the effect is striking. This cabin is simply fantastic.
Save Thousands On A New Land Rover Range Rover Evoque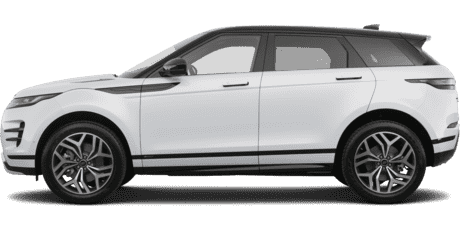 Save on average over $3,400 off MSRP* with
Motor1.com Car Buying Service
Comfort
⠀
⠀
⠀
⠀
⠀
⠀
⠀
⠀
⠀
⠀
6/10
The Evoque's seats are as wide and comfortable as we found them during our first drive in Greece. But while the cars we drove around Athens featured leather, this was our first taste of Land Rover's sustainable upholstery. The fabric is pleasant, although stray hairs from both your author's wife and dog clung to the material (despite the latter never actually entering the car). We'd suspect keeping this gray/black upholstery clean would be a matter of regular vacuuming. The monotone gray might be a better chance if you or a family member shed.
Noise, vibration, and harshness are excellent, although the thrashy sound of this turbocharged 2.0-liter engine is a bit too present in heavy throttle situations. Still, the Evoque's cabin is quiet and the adaptive dampers do a fine job of isolating occupants from road and tire noise. It's not impressively roomy, however.
Oh sure, there's plenty of space up front, but passengers in the second row have to contend with minimal legroom. There's just 33.8 inches, compared to 36.7 in the BMW X2, 36.1 in the Audi Q3 and Volvo XC40, and a whopping 39.5 in the Cadillac XT4. That's not to say the second row won't be comfortable for shorter adults, though. The bench has enough cushioning so that it's tolerable during long stints. Certainly, if you have smaller children, the Evoque's limited legroom shouldn't be a huge concern, although parents with teenagers may want to look elsewhere.
The Land Rover does claw back some points for its spacious cargo hold – there's 21.5 cubic feet of space with the second row up and 50.5 with it folded. There's a negligible difference between the Evoque and BMW X2, while the Landy has a higher maximum than the Audi Q3 and Cadillac XT4. The differences, though, aren't more than a few cubes. But unlike some of those rivals, the Evoque's rear bumper has a relatively high liftover height, which could make loading and unloading a challenge.
Technology & Connectivity
⠀
⠀
⠀
⠀
⠀
⠀
⠀
⠀
⠀
⠀
7/10
There's a lot of tech on the Range Rover Evoque, but a good portion of it just isn't that great. Yes, we're talking about the infotainment system, which relies on a pair of 10.0-inch touchscreens on the center stack. While both displays offer crisp, pretty graphics, they're also slow to respond to inputs and lack any form of haptic feedback to inform the driver whether the system accepted their command. Too often, we had to tap the screens multiple times, unsure whether we hit the right part of the screen.
The TouchPro Duo infotainment system also takes too long to respond after start-up, although the new Land Rover Defender will pioneer a setup that solves this particular annoyance. Our big issue is the delay in the rear-view camera feed while reversing, which led to a few occasions where we panic braked after realizing the camera wasn't showing a completely live feed. We've experienced this same issue in a Jaguar XE with TouchPro Duo, so we're thinking there may be some underlying software issue.
Beyond the lack of haptic feedback and the slow responses, the infotainment is rather average. The layout of the menus isn't too hard to come to grips with, although it's also not as easy to figure out as something like Audi's MMI system or Volvo's Sensus suite. Aside from the subpar centerpiece of the Evoque's tech setup, the rest of the package is rather good. Our HSE tester packs all the toys, with a lovely digital instrument cluster that offers plenty of adjustability – there are two separate gauge displays and a full map mode. Our tester carries the new-for-2020 rear-view camera mirror, which pipes a feed from a camera atop the shark-fin antenna into the rear-view mirror housing. The feed is crisp and detailed, and as far as we could tell, it didn't suffer from the same lag as the standard rear-view camera.
Performance & Handling
⠀
⠀
⠀
⠀
⠀
⠀
⠀
⠀
⠀
⠀
6/10
Every 2020 Evoque in the U.S. market features a turbocharged 2.0-liter four-cylinder, just like the last-generation model. The base P250 packs 246 horsepower and 269 pound-feet of torque, although the P300 featured here – the only engine available with the R-Dynamic trim – adds a 48-volt mild-hybrid system to the mix and ups the output to 296 hp and 295 pound-feet of torque. This takes the sprint to 60 down from a leisurely seven seconds to a still relaxed 6.3.
On the road, the P300's power feels robust, with impressive low-end torque afforded by the integrated starter-generator, once you start moving. That said, in stop-and-go conditions, the P300 feels sluggish. Throttle response is weirdly sharp, but the nine-speed automatic transmission is slow to engage and its upshifts are too relaxed, contributing to the dull character. The Evoque is far happier at speed, where the transmission can stick to a gear and channel the engine's ample torque – all 295 lb-ft are available between 1,500 and 4,500 rpm – to the standard all-wheel-drive system.
We didn't take the Evoque off-road during our time behind the wheel, but we have every confidence that this crossover can get far deeper into the wilderness than its competitors (if you want to read more about what the Evoque is like in the rough, check out our first drive). In addition to the standard all-wheel drive, the Evoque gets the latest Terrain Response II off-road system, and even a wade sensor. That item lets adventurous owners exploit the Evoque's ability to ford 23.6 inches of water.
The Evoque's capabilities off road don't come at the expense of its comfort on paved surfaces. Integrated McPherson struts up front and a multi-link rear suspension, combined with adaptive dampers at all four corners, mean the Evoque isn't as comfortable as its air-suspension-equipped siblings, but this is still a cushy car for around-town motoring. Handling is acceptable for the class, although the BMW X2 is more playful.
Safety
⠀
⠀
⠀
⠀
⠀
⠀
⠀
⠀
⠀
⠀
9/10
Our Evoque R-Dynamic HSE comes with all of Land Rover's active safety goodies as standard. That includes adaptive cruise control and full-speed automatic emergency braking, although lesser features, like lane-keep assist and low-speed automatic emergency braking are standard across the Evoque line. LED headlights are standard on all trims, too, although only the top two trims (SE and HSE) get standard automatic high beams and LED running lights.
In practice, the Evoque's safety gear is unobtrusive. Lane-keep assist's warnings are gentle rather than severe, which is the right approach – if systems are annoying, people shut them off. The adaptive cruise control is a smooth operator too, managing sudden intrusions by other drivers well.
Fuel Economy
⠀
⠀
⠀
⠀
⠀
⠀
⠀
⠀
⠀
⠀
3/10
Don't let the mild-hybrid fool you – this is still a turbocharged 300-hp vehicle. Fuel economy is disappointing for the size, with the EPA estimating the Evoque will return 21 miles per gallon city, 26 highway, and 23 combined. While our Evoque is significantly more powerful than competitors from Volvo, Cadillac, Audi, and BMW, it's less efficient, too.
The Volvo XC40 T5 nets 22 mpg city, 30 highway, and 25 combined, while the four-cylinder BMW X2 xDrive28i returns 24 city, 31 highway, and 27 combined. Cadillac is moderately better, with 22 city, 29 highway, and 24 combined for its XT4. Even compared to the thirsty Audi Q3 (19 city, 27 highway, and 22 combined), the Evoque loses out – the German will run on regular fuel, while the Land Rover's 2.0-liter demands premium gas.
Pricing
⠀
⠀
⠀
⠀
⠀
⠀
⠀
⠀
⠀
⠀
4/10
Prices for the Range Rover Evoque start high and stay there. This car is in an uncomfortable position in the market – it's priced like the Audi Q5 and BMW X3, but is far closer in size to the Audi Q3 and BMW X2, cars that easily undercut the Land Rover's $42,650 starting price. That makes the Evoque far and away the most expensive car in its segment – for comparison, you'll spend at least $34,700 on a Q3, $38,400 for an X2 xDrive28i, $36,345 for a Volvo XC40 T5 (you need the T5 to get all-wheel drive), and $39,190 for an all-wheel-drive Cadillac XT4.
Get into the options and trims, and the Evoque gets even more expensive. Our range-topping R-Dynamic P300 HSE starts at $55,800. Our tester also carries $10,395 in optional extras, none of which costs more than $1,300. On the up side, that means lots of room for customization, although it's fair to feel like Land Rover is kind of nickel-and-diming. This is already a pricey SUV – do a black headliner and a head-up display really need to be $900 options each? This is not an especially good value at $67,190 (including a $995 destination charge), even if the overall vehicle and its capability are likable.
Competitor Reviews:
Gallery: 2020 Land Rover Range Rover Evoque: Review
2020 Land Rover Range Rover Evoque R-Dynamic HSE P300
Engine
Turbocharged 2.0-liter I4
Motor
Integrated Starter-Generator
Output
296 Horsepower / 295 Pound-Feet
Transmission
9-Speed Automatic
Drive Type
All-Wheel Drive
Speed 0-60 MPH
6.3 Seconds
Efficiency
21 City / 26 Highway / 23 Combined
Cargo Volume
21.5 / 50.5 Cubic Feet
Car Buying Service
Get upfront price offers on local inventory.
About this article
| | |
| --- | --- |
| Category | |
| Make/Model | |
| Body Style | |
Our International Editions