A slightly different name and a significantly improved product.
If you scratched your head at the purpose of the Mazda CX-30, you aren't alone. Not only did this subcompact crossover break away from Mazda's established crossover nomenclature – the letters "CX" and a single digit – it arrives in a segment where Mazda is already well established with the CX-3.
But after a week behind the wheel, it turns out adding a zero changes the equation entirely. The CX-30 still suffers from some of the same ills as the similar CX-3, but it's more powerful, features a cleaner interior design, a marginally better infotainment system, and wears a more grown-up design. It's pricey, though, and that makes it a tough choice in this segment.
More On Mazda:
For more on how Motor1.com rates cars, click here.
Mazda can do no wrong when it comes to design. The Japanese brand has consistently offers the best looking car in every segment it competes in, and the CX-30 is no exception. This is a desperately pretty crossover inside and out.
If someone told us Mazda plucked these off some futuristic, sentient android, we'd believe you. The projector design is that pretty, and it's set back in predatory looking sockets that give the Mazda a hawk-like gaze. The exterior, beyond the lights, is both clean and organic, with nary a line out of place on the taut sheet metal. We like the taillights, which sit below a slim rear window, the long hood, and the subtle line that extends from the hood back toward the rear wheel arch, although the black cladding is a bit much.
The cabin is unequivocally the best in the segment full stop, do not pass go, do not collect $200. There's nothing better. Nothing even close, for that matter. But the clean, minimalist approach doesn't come at the expense of functionality. The steering wheel is lovely, featuring plastic accents that convincingly mimic real metal. Then there are the little things – we're simply in love with, of all things, the shape of the infotainment screen and the way it juts out of the dash. It's a brilliant, simple detail, but obscuring the bottom portion of the housing allows Mazda to tack the display on the dash without people like us complaining about its tacked-on look. Instead, it looks natural, like it just sprouted out of there organically.
This Mazda is a masterful piece of design, and there isn't a competitor out there that can match it.
Save Thousands On A New Mazda CX-3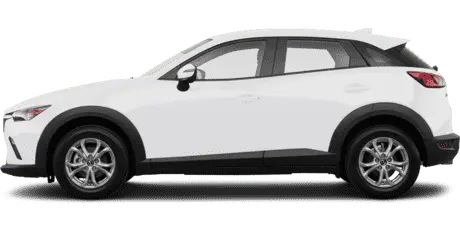 Save on average over $3,400 off MSRP* with
Motor1.com Car Buying Service
We'd love to say the same about the overall sense of comfort. The CX-30's front seats are quite supportive and comfortable for longer drive. Things are cozy in the back, though.
With 36 inches of legroom (an inch more than the CX-3), your six-foot, one-inch author had significantly more leg space than he'd find in a Toyota C-HR or Hyundai Kona (31.7 and 34.6 inches, respectively). It'd be a fine place for a longer ride, with a well-padded and supportive bench. Still, we couldn't fathom putting even two grown adults in the second row – legroom is adequate, but shoulder space (53.6 inches) is tighter than major competitors like the Kona, Kia Seltos, and Jeep Renegade (54.5, 54.7, and 55.1). That said, the CX-30 bests its predecessor's 50.4 inches of shoulder space easily.
The CX-30 also improves on the CX-3's cargo hold (arguably its weakest point) adding 2.4 cubic feet with the second row up, for a total of 20.2 cubes, a figure that's just a tenth of a point off the Mazda3 hatch. Still, the bumper height is tall and the trunk aperture relatively small, so loading up that space isn't as easy as in some of the competition.
The CX-30 falls short on the noise, vibration, and harshness front, though. Its 2.5-liter engine is loud in everyday conditions, and the sporty suspension tuning makes for a ride that lacks the calm and quiet of competitors like the Hyundai Kona.
The CX-30's tech suite – namely its 8.8-inch infotainment system – remains lousy. Oh sure, Mazda made it prettier and cleaned up the controls, but here's all you really need to know: for the bulk of our one-week loan, we had to make four separate inputs to change the radio station. How did that even pass quality assurance testing? Routine functions like this require way too many inputs to execute.
The system is most infuriating when listening to satellite radio. Press the steering wheel buttons and the system either rewinds or (if you aren't listening live) fast forwards the feed, rather than cycling through presets. What's the point of that?
The dismal infotainment aside, the CX-30 is at the very least well equipped. The 8.8-inch display is standard on every model, for better or worse, and there's a 7.0-inch display in the instrument cluster. The base car even gets an eight-speaker audio system with HD radio. Move up to our range-topping Premium model, though, and the kit improves immeasurably. There are three-stage heated leather seats, a 12-speaker Bose audio system, a power driver's seat, and a head-up display. It's an impressive setup for a small, relatively affordable vehicle.
The Mazda CX-30 is a charming on-road partner, offering the quick reflexes we expect from the brand along with an engine that outpunches many of its competitors. That it's so good to drive is probably the least surprising thing about the smallest Mazda crossover, though.
The engine is the standout here, considering what the CX-3 had to work with. That car's measly 2.0-liter could only muster 148 horsepower and 146 pound-feet of torque, which isn't great in a 3,000-pound crossover. The CX-30 adds an extra half liter of displacement, 38 horsepower, and 40 pound-feet of torque over its predecessor, though, it carries an extra 400 pounds of weight in this loaded all-wheel-drive variety. But even that increase in heft can't hide the impact of 186 pound-feet of torque.
The CX-30 feels eager from off the line and at low speeds, with the 2.5-liter engine pulling it along easily. Dig deeper into the throttle and steam runs out quicker than we'd like, although this engine is still significantly punchier than what you'll find in the competition. It doesn't sound half bad either, although Mazda could stand to lower the volume a couple notches.
Like all Mazdas, the CX-30 is a hoot to throw into a bend. Fast steering and a firm suspension promote sharp turn in, helping this crossover change direction as a Mazda should. It's genuinely fun on entry, but you can carry speed into corners too, thanks to the tightly controlled body motions. The CX-30 is light on feedback, although the chassis is more talkative than you'll find anywhere else in this class.
Complaints? Not really any. The CX-30 is an incredibly likable driver's car, despite its reasonable price and crossover body.
Mazda takes safety seriously, offering every CX-30 with auto-high-beam-equipped LED headlights, adaptive cruise control, automatic emergency braking, and lane-keep assist. That's a hard batch of safety gear to ignore, especially when considering it's present on every trim level.
For comparison, the Honda HR-V doesn't offer its active safety suite until the mid-range EX trim. The Toyota C-HR offers, as standard, all of its active safety gear across all trims, while the competitors from Hyundai and Kia offer competitive equipment on all but the base model.
Fitted with all-wheel drive, the range-topping CX-30 returns an EPA-estimated 24 miles per gallon city, 31 highway, and 26 combined. That isn't great when you consider the number of cars that return higher combined ratings. Among competitors that offer all-wheel drive, the Subaru Crosstrek bests the CX-30 with 27 mpg city, 33 highway, and 30 combined (albeit while offering less power). If you can live without front-wheel drive, the Toyota C-HR offers up 27 city, 31 highway, and 29 combined.
That said, the CX-30's fuel economy scores are okay. It even bests less powerful rivals like the Ford EcoSport (25 combined) and Fiat 500X (26 combined). The only car that can match the CX-30 in performance while besting it in fuel economy is the turbocharged Kia Seltos, which packs 175 hp, 195 lb-ft, and a 27-mpg combined rating.
Prices for the CX-30 start at $21,900 for the base front-wheel-drive trim. All-wheel drive is available as a $1,400 option on every trim level. Getting into our range-topping CX-30 Premium with all-wheel drive requires at least $29,600, although the price won't increase much from there.
There are three premium paint options, with our tester's Snowflake White Pearl demanding $200. Mazda's two signature colors, Machine Gray and Soul Red, cost $300 and $595, respectively. Beyond those choices and a spate of dealer-installed accessories – floor mats and the like – the only other expense is the $1,100 destination charge. Fully loaded, the CX-30 costs $31,295. Our white test car rings up at $30,900.
Mazda priced the CX-30 competitively. It undercuts the $22,470 Jeep Renegade Sport, the $23,240 Nissan Rogue Sport, and the $24,740 Fiat 500X, and is in the same ballpark as the $21,990 Kia Seltos and the $21,295 Toyota C-HR. The Hyundai Kona ($20,300) and Honda HR-V ($20,820) manage to best the CX-30 by a fair margin, though.
If you're set on a fully loaded vehicle, the CX-30 is harder to recommend. At $31,295, there are a fair few vehicles that have a lower max price, like the Seltos ($28,590), the HR-V ($28,890), Kona ($29,370), and C-HR ($26,815).
Competitors:
Gallery: 2020 Mazda CX-30: Review
2020 Mazda CX-30 Premium
Output
186 Horsepower / 186 Pound-Feet
Transmission
6-Speed Automatic
Drive Type
All-Wheel Drive
Efficiency
24 City / 31 Highway / 26 Combined
Cargo Volume
20.2 Cubic Feet