A charming muscle car that's falling behind the times.
How long will the Dodge Challenger survive? At 11 years old, it's already a geriatric in the new-car market, and yet, it's arguably the most popular muscle car around, selling as well or better than far newer rivals. And after spending a week with the new Challenger Scat Pack Widebody, it's easy to see why.
Admittedly, our score doesn't necessarily reflect that point. The Challenger Scat Pack Widebody still earns decent marks for its design and the level of comfort the cabin provides. Not surprisingly, with the well-liked Uconnect infotainment system and a bossy 6.4-liter V8, the Dodge also does well in the technology and performance spaces.
The Challenger, though, loses marks due to its ponderous handling compared to the Ford Mustang and Chevrolet Camaro, limited safety gear, and, most critically, for the V8's mediocre fuel economy and hefty price tag for this Scat Pack Widebody. If we handed out points for charm and character, though, the Challenger's score would be a good bit higher.
Save Thousands On A New Dodge Challenger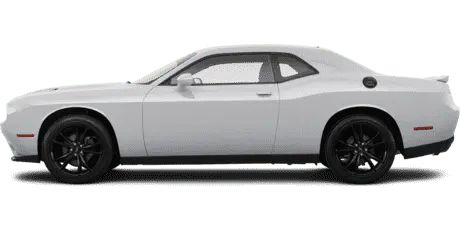 Save on average over $3,400 off MSRP* with
Motor1.com Car Buying Service
For more on how Motor1.com rates cars, click here.
Design
⠀
⠀
⠀
⠀
⠀
⠀
⠀
⠀
⠀
⠀
8/10
The Dodge Challenger isn't an iconic design, but it's proving to be a timeless one. Its retro look has been around long enough that most people are familiar with it. This is an extremely handsome car, with its muscular look a big reason the Challenger has been so successful for so long. Crisp, strong styling lines complement the aggressive design.
For 2020, Dodge is expanding the availability of the Challenger's widebody design. What was once exclusive to the Demon and then the Hellcat is now available on this, the naturally aspirated Scat Pack. The wildly flared wheel arches are the biggest stylistic change to the Scat Pack, allowing the 485-horsepower coupe to blend in with its more powerful siblings.
Changes and updates to the cabin are virtually nonexistent, though. This is the same familiar interior design we've seen for years, although the Scat Pack is now available with a $1 rear-seat delete option. Removing the rear seats saves 48 pounds but seems like a rather silly option for the only muscle car that can legitimately function as a two-plus-two.
Gallery: 2019 Dodge Challenger Scat Pack Widebody: Review
Comfort
⠀
⠀
⠀
⠀
⠀
⠀
⠀
⠀
⠀
⠀
7/10
The Challenger's comfort score would be a point higher if our tester had the relatively cavernous rear seats that come standard. Instead, we rocked a two-seat Challenger with the $1 rear-seat delete kit. Yanking the back chairs out makes the cabin more versatile, in a way – the package adds a cargo net where the seats should be, allowing the 93.9-cubic-foot cabin to dedicate more room for hauling. In terms of trunk space, the Challenger remains the most spacious of the muscle coupe class, besting the Ford Mustang (13.5 cubic feet) and Chevrolet Camaro (9.1 cubic feet) with a max of 16.2 cubes.
As for the front seats, they're the same big, comfy, supportive thrones Dodge has been selling for years. The houndstooth cloth looks good and remains a comfortable, cruelty-free alternative to the optional leather/Alcantara upholstery that Dodge offers with the $1,695 Plus package.
The Challenger has more of a grand touring character than its performance-focused rivals, but it's merely average in terms of noise, vibration, and harshness. You'll notice plenty of tire noise, thanks in large part to the Widebody package's meatier, 305-millimeter Pirelli tires. And the package's addition of adaptive dampers don't do much to improve ride comfort, although the Challenger is still slightly better than its primary rivals.
Technology & Connectivity
⠀
⠀
⠀
⠀
⠀
⠀
⠀
⠀
⠀
⠀
7/10
The heart of the Challenger's tech suite remains its excellent 8.4-inch Uconnect touchscreen infotainment system. The software is still some of the best on the market despite its age, while the physical screen is responsive and features crisp graphics. Both Apple CarPlay and Android Auto work with the system, while the SRT performance pages add a depth and usefulness to Uconnect that's absent in FCA's mainstream models. They give drivers access to performance telemetry and serve as the main interface for features like launch control and line lock.
The Scat Pack Widebody package comes well equipped even before diving into its ample range of optional extras. Along with Uconnect, there's a standard 4G LTE wifi hotspot, push-button start, HID headlights, and heated seats. Optional extras include a pair of upgraded audio systems (a nine-speaker unit from Alpine or an 18-speaker Harmon Kardon system, respectively), a sunroof, and a limited range of active safety gear, like adaptive cruise control.
Performance & Handling
⠀
⠀
⠀
⠀
⠀
⠀
⠀
⠀
⠀
⠀
6/10
Under the Scat Pack Widebody's hood sits the same powertrain as the narrow-body Scat Pack: a 6.4-liter V8 and the choice of either a six-speed manual or an eight-speed automatic transmission. The familiar setup offers 485 horsepower and 475 pound-feet of torque that get to the road through the rear axle. It's a righteous, old-school setup that packs tremendous punch at low engine speeds without relenting as the engine speeds climb.
Our tester carries the excellent ZF eight-speed automatic. The T-shaped shifter is pleasurable to operate, but it's less fun than shifting manually with the wheel-mounted paddles. Set to its most aggressive drive mode, the gearbox executes upshifts with an ear-pleasing "brap," all while responding willingly to multi-gear downshifts. In full automatic, meanwhile, this remains one of the best automatic transmissions on the planet.
The $6,000 Widebody package adds flared wheel arches, but it also attaches 305/35 Pirelli all-season tires (summer rubber is available as a $595 option) on 20-inch wheels, a stiffer suspension that features adaptive dampers, and stouter brakes. Even in Widebody form, though, the Challenger is not an eager dance partner. If handling is your jam, both the Mustang GT Performance Pack Level 1 and Camaro SS 1LE will drive rings around the Challenger.
This is a big, heavy coupe, tipping the scales at 4,266 pounds. The steering is slow, but well weighted for the Challenger's mass. That said, there's plenty of body roll and suspension squat and dive. These motions aren't informative, though. Even with the huge tires, it's hard to interpret what's happening between the rubber and the road. The Widebody does have a higher handling and grip threshold than a standard Challenger, but it's still too aloof and lacks the handling poise of the competition from Ford and Chevrolet. In short, the Widebody Challenger is still an unapologetic muscle car.
Safety
⠀
⠀
⠀
⠀
⠀
⠀
⠀
⠀
⠀
⠀
5/10
The Dodge Challenger has active safety gear, although none of it is standard. Instead, Dodge divvies up the equipment into the $1,095 Driver Convenience Group (blind-spot monitoring and other gear) and the $495 Technology Group (forward collision warning with automatic emergency braking, adaptive cruise control, rain-sensing wipers, and automatic high beams).
If you're looking for driving assistants, like lane-keeping assist, you'll want to pass on the Challenger (although to be fair, you'll probably want to pass on this entire segment).
Fuel Economy
⠀
⠀
⠀
⠀
⠀
⠀
⠀
⠀
⠀
⠀
2/10
The Challenger's low fuel economy rating is, unsurprisingly, because its 6.4-liter V8 is damn thirsty. Look for EPA fuel economy estimates of just 15 miles per gallon city, 24 highway, and 18 combined, despite an unobtrusive cylinder deactivation feature. The Mustang GT with the automatic returns 16 city, 25 highway, and 19 combined, while the Camaro SS will net 16 city, 27 highway, and 20 combined.
The Scat Pack loses another point because its engine requires premium fuel, whereas the 5.7-liter V8 in the Challenger R/T will accept regular 87-octane gas (although Dodge recommends 89 or 91 octane).
Pricing
⠀
⠀
⠀
⠀
⠀
⠀
⠀
⠀
⠀
⠀
3/10
The Challenger's low pricing score reflects our Scat Pack Widebody's hefty level of optional extras. This example rings up at $51,116, a substantial jump over the base Challenger's $28,095 starting price, while representing a big increase over an optionless $38,995 Scat Pack. Half of that $12,000 increase comes from the $6,000 Widebody package.
In terms of equipment, our tester has nearly every option except for the $495 Technology Group. A $795 option adds navigation to the standard 8.4-inch display, while an SRT spoiler adds some visual flair for $695.
Despite the hefty price tag, the $38,995 Scat Pack and our $51,116 Scat Pack Widebody are tempting alternatives to the Mustang and Camaro if all you care about is horsepower per dollar. The 460-horsepower Mustang GT is available starting at $35,630, although the $39,630 GT Premium is a closer analog, in terms of equipment, to the Challenger Scat Pack (add $1,595 for the Ford's unlikable 10-speed automatic). As for the 455-hp Camaro SS, the base model starts at $37,595, while the better-equipped 2SS demands at least $42,995. Curiously, all three muscle cars charge $1,595 for their respective automatic transmissions (Ford's dismal 10-speed auto, Dodge's excellent ZF-sourced eight-speed, and Chevy's in-house Hydra-Matic 10-speed).
Competitors:
2019 Dodge Challenger Scat Pack Widebody
Output
485 Horsepower / 475 Pound-Feet
Transmission
8-Speed Automatic
Drive Type
Rear-Wheel Drive
Speed 0-60 MPH
4.2 Seconds (est)
Efficiency
15 City / 24 Highway / 18 Combined
Cargo Volume
16.2 Cubic Feet
Car Buying Service
Get upfront price offers on local inventory.
Our International Editions