Insanely capable, not so livable.
The age of the performance crossover is now. Fast, high-riding cars are truly having a moment, with fantastic options from all over Europe now doing battle to get showroom attention. As their ranks grow, it's getting harder for performance CUVs to stand out from the crowd. Automakers are addressing this issue by adding even more performance to fully leaded crossovers.
Look no further than the 2020 BMW X4 M Competition, a more powerful version of the already potent X4 M. That lengthy badge equates to one of the most ferocious, capable crossovers on the market, with plenty of visual flair on offer, too. BMW's smaller crossover coupe gets the full M treatment with over 500 horsepower, dramatic styling, and suspension tuning that makes it a surprisingly great candidate for a track day. But not so much a daily driver. For the enthusiast willing to swap comfort for outright performance, this is your ultimate crossover machine. For everyone else who just wants some extra grunt in their CUV, this M car goes a little too far.
Competition Counterparts:
For more on how Motor1.com rates cars, click here.
Design
⠀
⠀
⠀
⠀
⠀
⠀
⠀
⠀
⠀
⠀
7/10
Among our categories for reviewing a vehicle, the Design section will probably be the most controversial for the X4 M. Just like its bigger X6 sibling, the X4 features a sloping roofline that gives it a dramatic presence, which the M-specific touches dial up a few notches. Those who prefer more traditional crossover looks will favor the X3 M, and either way you're getting the same phenomenal performance package.
Though the X4's shape isn't for everyone, the M Competition version is the best looking. Aggressive touches like the sharp 21-inch wheels, blacked-out exterior features (especially the kidney grille), and a sport quad-tipped exhaust all come standard with the Competition trim – and they do wonders for the X4. There's just something about this car's peculiar shape that demands overstated accents, and the M delivers on that need.
Less ostentatious is the car's interior design, which mimics the X3 M's to a tee. BMW's functional, straightforward cabin looks as good here as it does in any of its other products. Our tester features a unique gray-ish interior color that BMW calls Adelaide, with large carbon fiber panels on the dash and door panels. Collectively, the cabin is more purposeful than it is ornamental. There are buttons just about everywhere you look – too many, in fact. But that's the price you pay for so many different driving modes.
Save Thousands On A New BMW X4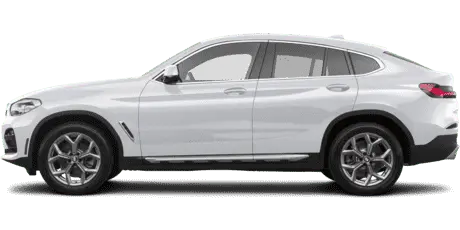 Save on average over $3,400 off MSRP* with
Motor1.com Car Buying Service
Comfort
⠀
⠀
⠀
⠀
⠀
⠀
⠀
⠀
⠀
⠀
5/10
BMW sharpened both the chassis and the suspension to the absolute max with this car. It's extremely capable (which we'll revisit more in a bit), but that comes at the cost of comfort. You feel every small bump in the road, and any sizable pothole sends shockwaves through the car.
Although very little wind noise enters the cabin, the same cannot be said of the tires, which produce a constant droning. Keep the X4 M in Comfort and it's more tolerable, but the most aggressive Track mode makes the car borderline unusable on public roads. A Competition car should be stiff, we get that. But dialing back the aggression 10 or 15 percent would do wonders for around-town driving.
Though ride quality is the headlining negative, there are some positives to report in regards to comfort in the X4 M Competition. The heated, cooled M Sport front seats come standard with the Competition. Though thinner and less plush than the non-M version of the X4, are actually quite comfy during long drives. And through the occasional spirited corner, they hug you nicely without being too intrusive. Just because the X4 M rides like it's ready to set a lap record doesn't mean the cabin comfort is lost. For those riding shotgun, it's actually quite nice.
Your friends in the backseat might be less inclined to agree. Over our week-long test, we threw adults of all shapes and sizes in the X4's second row, with just about everyone asking where their legroom was. At 35.5 inches, it's basically identical to what you get in a 3 Series sedan, which isn't much. Anyone over six feet tall is also likely to question the headroom situation, which is half an inch less than a 3 Series offers, at 37.2 inches.
Technology & Connectivity
⠀
⠀
⠀
⠀
⠀
⠀
⠀
⠀
⠀
⠀
8/10
The X4 M features all of BMW's greatest tech hits, punctuated by the brand's familiar iDrive system, which is now in its sixth generation. There are two displays to interact with: a 10.2-inch center display and larger 12.3-inch digital instrument cluster. While touch is an option, the infotainment display works best via the circular iDrive controller on the center console. The system is now better than ever, with beautifully clear graphics, quick response times, and an easy-to-follow homescreen layout.
BMW is still among the few manufacturers to offer wireless Apple CarPlay, which unfortunately is still in its teething phase. While it's great not to have your phone wired up to the center console, our wireless connection glitched several times over the course of the loan.
The digital gauges offer the driver ample information and the head up display is one of the best in the business. Both displays are customizable, shifting layouts depending on what performance setting the car is in. While the head-up view is a major win with its crystal clear look, we're less enthused by the lack of customization with the gauge cluster. Unlike Audi's Virtual Cockpit, you can't display full screen navigation or media information, which is something we'd like to see.
Performance & Handling
⠀
⠀
⠀
⠀
⠀
⠀
⠀
⠀
⠀
⠀
9/10
In our Star Review heptathlon, this is the closest thing to the X4 M's gold medal event. Performance crossovers can now do just about everything their sedan or coupe counterparts can, albeit with some extra drama because of their size. That's the funny thing about the X4 M, though – the drama just isn't there. From behind the wheel, you attack corners like you would piloting an M3 sedan; BMW dialed in this big crossover that well. And while the X4's height and overall size inhibit its abilities just slightly, you're too amazed by how well it can perform to even notice.
BMW's twin-turbocharged 3.0-liter six-cylinder is so easy to fall in love with. Paying the extra money for the Competition means horsepower jumps to 503, from 473 in the "standard" X4 M, thanks to a re-tuned ECU and revised exhaust system. The all-star engine works in tandem with an elegant eight-speed automatic transmission that mostly goes unnoticed as it keeps shifts neat and tidy. Power flows to all four wheels via a similar xDrive system found in the M5 sedan, which sends the majority of the twist to the rear wheels unless slip is detected. Grip levels here are phenomenal – more than enough for any street scenario.
We found ourselves manually flipping the exhaust to its loudest mode, even with the car in Comfort mode, because it makes the inline-six sound that much sweeter. Aside from the noise, the engine's raw power is equally intoxicating, with smooth delivery from the bottom of the rev range to the top. No surprise turbo lag here.
While we love the BMW's heavy, tactile steering feel, it fails to communicate what's happening on the road like the chassis and suspension do. Switching the steering to Sport or Track modes makes it heavier, but no more communicative, unfortunately. The brakes are insanely sensitive – just ask the many passengers we choked out with the seatbelts during our familiarization period. And like we already said, the suspension tuning shines on smooth, fast roads but causes too many problems on imperfect everyday streets.
Taken as a whole, the X4 M Competition's performance components make it a car best-suited for track use, which is somewhat ridiculous because such a small portion of buyers will actually track this car.
Safety
⠀
⠀
⠀
⠀
⠀
⠀
⠀
⠀
⠀
⠀
9/10
With the X4 M's high starting price, BMW throws in most of the safety equipment as standard. Our tester is only missing the $1,700 Driving Assistance Plus Package, which adds adaptive cruise control with stop and go functionality, and BMW's full-speed automatic emergency braking and collision mitigation, which uses cameras to warn of oncoming collisions and actively avoid them. That said, the X4 M comes with low-speed automatic emergency braking, lane-departure warning, blind-spot monitoring, and rear cross-traffic alert as standard features. BMW's excellent parking assistant (part of the $2,500 Executive package) also deserves a special shoutout. It makes parking a breeze, showing a full 3D image of the car and its surroundings on the infotainment screen.
Fuel Economy
⠀
⠀
⠀
⠀
⠀
⠀
⠀
⠀
⠀
⠀
2/10
Nobody should expect strong economy numbers from a 500-horsepower crossover. On the required premium fuel, the X4 M Competition returns 14 miles per gallon in the city, 19 on the highway, and 16 combined. During our most spirited outing in the X4, we saw as low as 14 mpg in mixed driving conditions. Otherwise, the EPA-rated figures held true during our test.
Pricing
⠀
⠀
⠀
⠀
⠀
⠀
⠀
⠀
⠀
⠀
6/10
As the most expensive X4 available, the M Competition is much pricier than the base model's $51,100 starting price. For reference, the standard X4 M starts at $73,400, and the Competition raises the bar to $80,400. Including the $2,500 Executive option pack, $550 gray metallic paint, and $350 ventilated front seats, our tester comes in at $84,795. The paint is a matter of preference (we're not too wild about it), but we approve the other two options. The cabin is better off with cooled seats and the fantastic head up display and parking assistant that come with the Executive package.
Sizing up the X4 M Competition to its main rivals, the Mercedes-AMG GLC 63 S Coupe and its near-identical 510 horsepower starts a tick higher at $84,100. The non-coupe Alfa Romeo Stelvio Quadrifoglio with its 505 horsepower, barely undercuts the BMW at $80,245. These three options offer different approaches to performance, with very similar pricing.
Competition:
Gallery: 2020 BMW X4 M Competition: Review
2020 BMW X4 M Competition
Engine
Twin-Turbocharged 3.0-Liter I6
Output
503 Horsepower / 442 Pound-Feet
Transmission
Eight-Speed Automatic
Drive Type
All-Wheel Drive
Speed 0-60 MPH
4.0 Seconds
Efficiency
14 City / 19 Highway / 16 Combined
Cargo Volume
18.5 / 50.5 Cubic-Feet
Car Buying Service
Get upfront price offers on local inventory.
Our International Editions