Also, see how much power they're making on the dyno.
What are three of Germany's most powerful compact performance cars doing on a runway? A drag race, of course. Motor1.com's Italian team was able to get ahold of an Audi RS3, BMW M2 Competition, and Mercedes-AMG A45 S, and the natural thing to was to unleash them over 400 meters (1,312 feet or 0.2485 miles).
On paper, the one to beat here is the A45 S with 416 horsepower (310 kilowatts) and 500 Newton-meters (369 pound-feet) running to both axles through a dual-clutch eight-speed gearbox. According to the factory, it hits 62 miles per hour (100 kilometers per hour) in 3.9 seconds.
Gallery: Mercedes A45 AMG, BMW M2 Competition And Audi RS3 Drag Race
At the other end of the power spectrum, there is the Audi RS3 with a 2.5-liter turbocharged five-cylinder carrying a factory rating of 394 horsepower (294 kW) and 354 pound-feet (480 Newton-meters). Although, the Four Rings recently had to stop production temporarily to make tweaks due to the new Worldwide Harmonized Light Vehicles Test Procedure. The output runs through a seven-speed dual-clutch gearbox to an all-wheel-drive system. The automaker says the run to 62 mph requires 4.1 seconds.
Save Thousands On A New Audi RS 3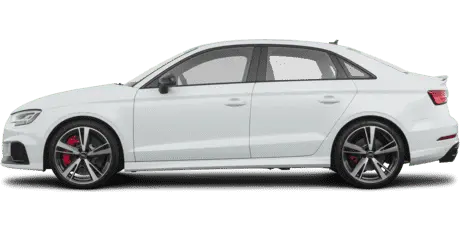 Save on average over $3,400 off MSRP* with
Motor1.com Car Buying Service
Sitting in the middle in terms of power, there's the BMW M2 Competition with 404 hp (301 kW) and 406 lb-ft (551 Nm). It uses a seven-speed dual-clutch gearbox, but, unlike the other two, this one is rear-wheel drive.
| | | | | |
| --- | --- | --- | --- | --- |
| Vehicle | Engine | Horsepower | Weight (In Europe) | 0-62 MPH |
| Mercedes-AMG A45 S | 2.0 Turbo I4 | 416 HP | 3,439 pounds | 3.9 seconds |
| BMW M2 Competition | 3.0 Turbo I6 | 404 HP | 3,583 pounds | 4.4 seconds |
| Audi RS3 | 2.5 Turbo I5 | 394 HP | 3,329 pounds | 4.1 seconds |
The Motor1.com team Italy was also able to put these three models on a dyno to see where each engine makes peak power and torque.
Want to see what happens when they race? Click on the video above!
Gallery: Mercedes A45 AMG, BMW M2 Competition And Audi RS3 Drag Race