'Project Spectre' Makes Other Land Rover Defenders Look Tame
Of its own merits, the recently-departed Land Rover Defender is quite the formidable off-road machine. Heck, look in the most remote corners of the globe and you'll likely find a few Defenders, and hard at work too.  But what happens when you open your pocketbook and produce a blank check with the instructions "build me an ultimate Defender." Well, something like this. Meet 'Project Spectre'—part passion project, part no-corners-cut adventure vehicle, and the jaw-dropping creation of Florida 4x4 shop
East Coast Defenders
. There's no getting around it, building this goliath 'Rover was not a cheap endeavor. According to the firm, it claimed the better part of $175,000. But surely the end result was well worth the big spend, and then some.
RELATED: Meet the Two Millionth Land Rover Defender Ever Built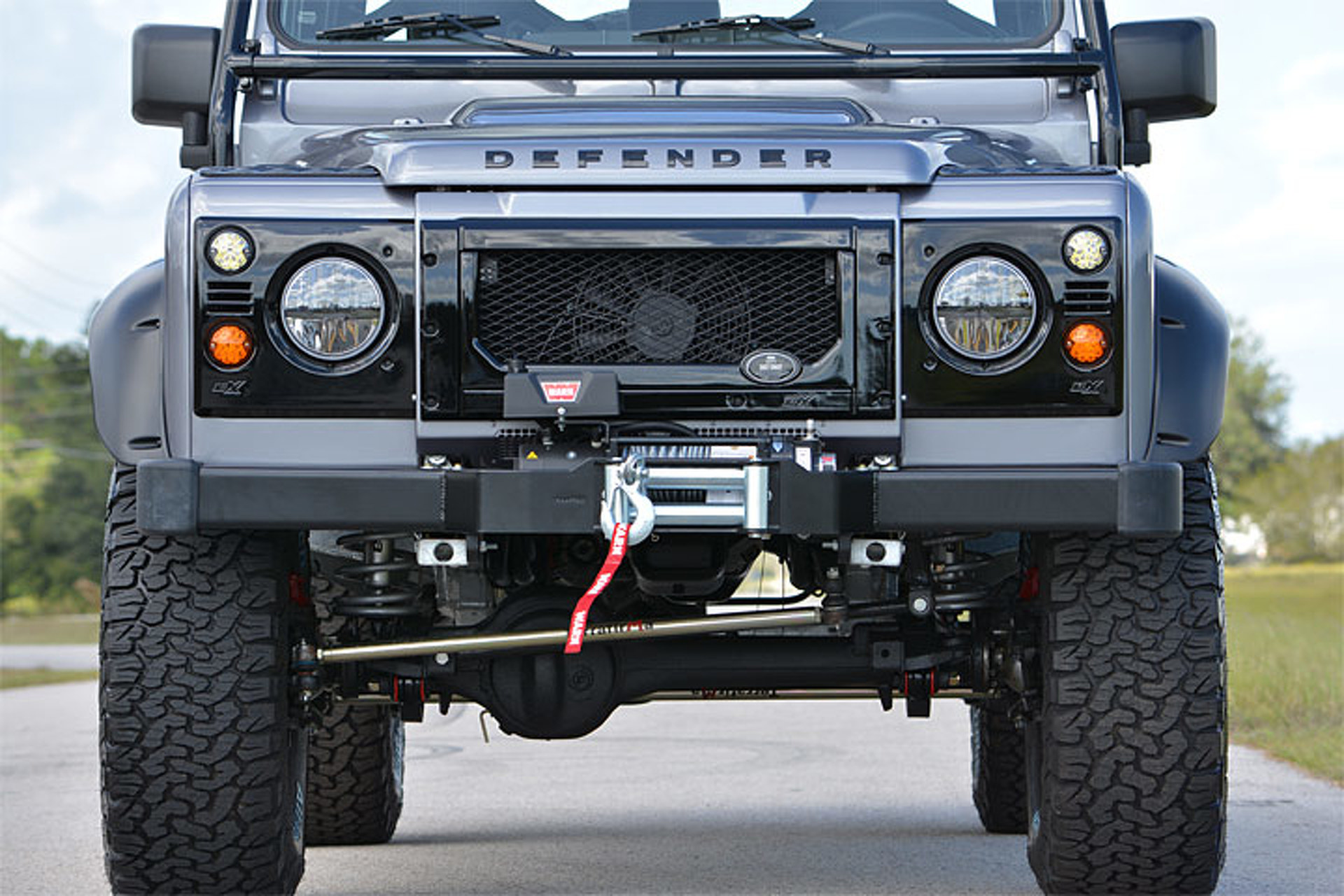 East Coast Defenders started its build with a Defender 130 pickup truck—a rare variant on US shores—and gave the brute quite a hardcore off-road look. Beneath its frame (now galvanized) lies a set of big Ashcroft heavy-duty axles with tall 4.37 gears, suspended via a two-inch Terrafirm lift kit, and supporting sizable BFG KO2 off-road rubber wrapped around 18-inch Boost wheels. A menacing front and rear bumper, 8,000-pound Warn winch, and a tire carrier tucked in the bed complete the no-nonsense look. Of course, all that additional gear requires some additional 'go' from under the hood—stock Land Rover Defenders aren't known for their straight line speed—so the East Coast Defender crew inserted a built-up RPI 4.6-liter V8, complete with a racier Piper camshaft, a carbon fiber intake feeding triple throttle bodies, and Hedman headers leading to a more free-flowing exhaust. A track star it is not, but it will get you there. A ZF five-speed automatic gearbox and LT230 transfer case put that power to the ground.
RELATED: This Vintage Military Land Rover was Built to Fly
While its Orkney Grey exterior inspires an off-road persona, inside the Land Rover Defender packs in modern luxury. Leather Corbeau bucket seats find a home up front, complemented by a matching leather-wrapped dashboard and center console, custom gauges, a JBL audio system, Pioneer infotainment setup, and a racy Momo steering wheel. Like it? Unfortunately 'Project Spectre' has already found a home, but we'd gander East Coast Defenders wouldn't mind building another Defender 130 to even more extreme standards. Photo Credit:
East Coast Defenders
RELATED: The Land Rover Defender Production Lines Aren't Dead Yet!
Follow @BoldRide