This GT500CR Shelby Mustang is an 800-HP Showstopper
There's a school of thought that believes Carroll Shelby perfected the Mustang after he ran his fingers over the original pony car back in the mid-'60s… and well, they would be right. You'd be hard pressed to find two cars more celebrated than the original Shelby GT350 and GT500, apart from the Mustang itself.  The stumbling block is however, how do you improve upon such an icon? One route is to distill and strengthen its signature points, and that is exactly what the
Classic Recreations
crew have done with this pony car—one of the firm's
2016 GT500CR 900S Shelby Mustangs
. There is a caveat, however. They're not what you'd call cheap. Commissioning a GT500CR 900S build starts at a tall $219,000, and this tasty grey car touts more than $25,000 in extra upgrades. It's now bound for a client in Russia. All things considered, there is a lot to love.
RELATED: Take a Closer Look at Classic Recreations' GT500CR Shelby Mustang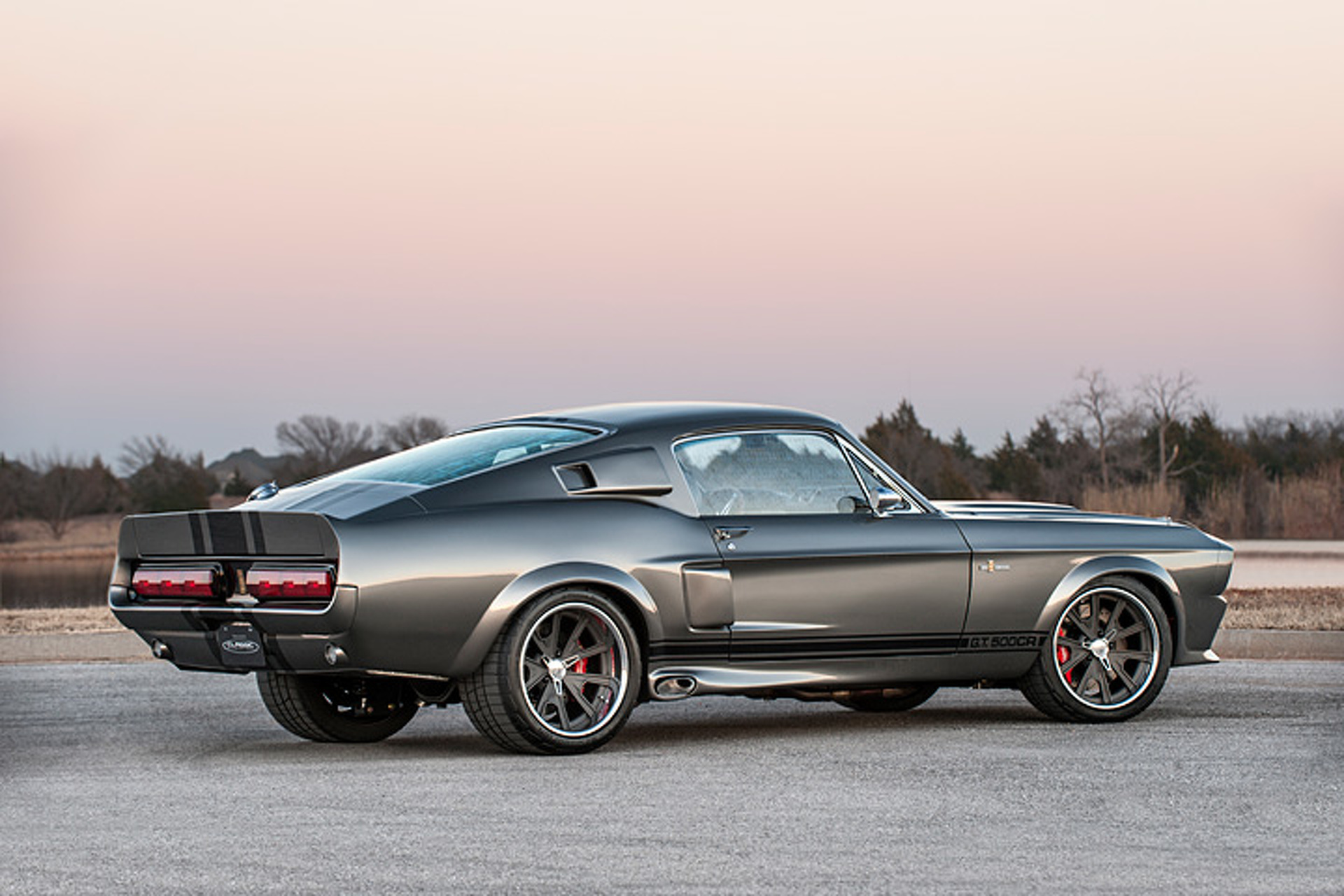 First things first, the original Shelby GT500 was known for its unmistakable looks, and the GT500CR surely doesn't disappoint in that category. Each build starts with an original '67 Mustang Fastback body (don't worry, it wasn't an original Shelby) to which the classic twin nostril hood, sequential taillights, raised spoiler, quad headlights, and racy side scoops are added. Where the original car zigs though, the CR creation zags with wonderful restomods, including a color-matched rear bumper, Eleanor-style side pipe exhaust (in this case, JBA and Magnaflow units), a defiant underbite courtesy of a new front bumper-splitter combo, and sleek Forgeline wheels with knock-off caps, among a number of other enhancements. It exudes the "lower, leaner, meaner" look, and that meticulous treatment continues inside as well. The interior stays a tad more faithful to the original GT500, but look close and you'll find an additional gauge pod popping out of the vintage dash, five-point seat belts, Kicker speakers, and a fine woodgrain aluminum steering wheel. And no, you're not mistaken. That's Carroll Shelby's signature on the dash.
RELATED: Check Out this 1-of-1 Need for Speed GT500 Shelby Mustang
Then come the performance bits at the heart of the reborn Shelby Mustang, of which this car has many. You won't find the classic 428ci monster. However, the GT500CR does ready a modern Ford Performance 427ci V8, which is now shoveled air courtesy of a Procharger F1-R supercharger. The end result? More than 800 horsepower, says Classic Recreations. That significant blast of power is handled by a new Tremec manual gearbox, Fab 9 nine-inch rear end, and carbon fiber driveshaft, which is massaged (or beaten) into the roadway courtesy of a Detroit Speed quadralink suspension setup. Because if you have 800 ponies on tap, you might as well be able to use all of them. Stopping power is handled by big six-piston Wilwood brakes, front and rear.
RELATED: The "Rent a Racer" Hertz Shelby Mustangs Ride Again for 2016
Need one in your life? If you can live without 800 horsepower at your disposal, Classic Recreations can whip you up one of its GT350CR Shelby Mustangs for around $139,000, which now comes
available with EcoBoost power
. And best of all, since the firm is licensed by Shelby, each car is added to the official Shelby Worldwide Registry. Pretty nifty. Photo Credit: 
Classic Recreations
RELATED: Shelby is Selling Off its Rarest Prototypes and Concept Cars
Follow @thetirekicker